Ride For As Low As 1.99%
PLUS, get up to $250 cash back and no payments for 60 days, so you can ride while you save.*
Learn More
When you shopped for your last car, how did you calculate the price? To get a better deal, pay just as much attention to your financing terms as to the sticker.
An all-too-common oversight when making a big purchase is to search for the best price without looking into the total cost – including your loan. It's easy to get wrapped into negotiating the price and celebrate when you manage to negotiate $700 off of the price of the car, but then realize in a few months what you really should have worked is your loan terms.
Here are three things you need to consider when picking your auto loan:
The Monthly Payment
Your monthly payment may be your biggest concern when buying a car. You want to make sure you can easily make your payment each month while finding a healthy balance between your budget and the total cost of your loan (the total interest amount). This is where you need to take a good look at your monthly and yearly expenses and determine how much you are personally comfortable spending each month.
When you go through this critical step, don't forget to include your other car-related expenses in your monthly car budget: including gas, insurance, and maintenance. After determining how much you can spend each month on your car, use that number to set your total car budget and work your loan terms.
The Interest Rate
When you think about a loan, the first thing you think of is probably the interest rate. Your interest rate sets the basis for the total cost of your car; where you can normally customize your loan term, your interest rate is a bit less negotiable. Your interest rate is tied to your credit score, the term of the loan, and possibly other factors.
No matter what type of loan you get, you'll want the lowest interest rate possible. Here's how much of a difference even 0.5% or 1.0% can make on a $35,000 loan: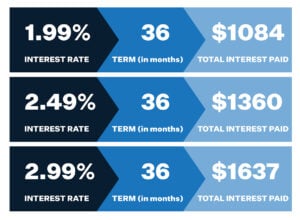 With a 0.5% decrease in interest rate, which may not seem like much at first glance, you'll save about $277 in total interest over the life of your loan.
The Term
The term of your loan refers to the length of time your loan will last. For example, if you have a term of 36 months, you will be paying off the loan for three years. Even if your interest rate is the same, increasing the term of your loan will result in a higher amount of total interest paid and in turn increase the total cost of your car. To explain a little further, here's the effect of changing the term on a $35,000 loan: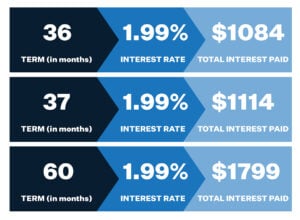 When you can, choose a shorter loan term to save on your total interest. In this example with the same interest rate for each term length, you've lowered the overall price of your car by over $700 by choosing a shorter term. Another bonus of a shorter term is that shorter term loans will usually have lower interest rates than longer term loans.
Your car is one of the biggest money decisions you will make, so make sure it's a smart one. Take your time before you shop to prepare fiscally and mentally and arm yourself with this loan knowledge when it's time to finance. You have our Alabama ONE TEAM ready to help you make strong financial decisions; talk with us for help with your budget, raising your credit score, and getting the best deal on your next vehicle loan.